Montana Contractor R.E. Miller & Sons Reinvigorated Under New Ownership
The already-successful business continues to grow thanks to the investments in technology and people by new owner John Jeffery...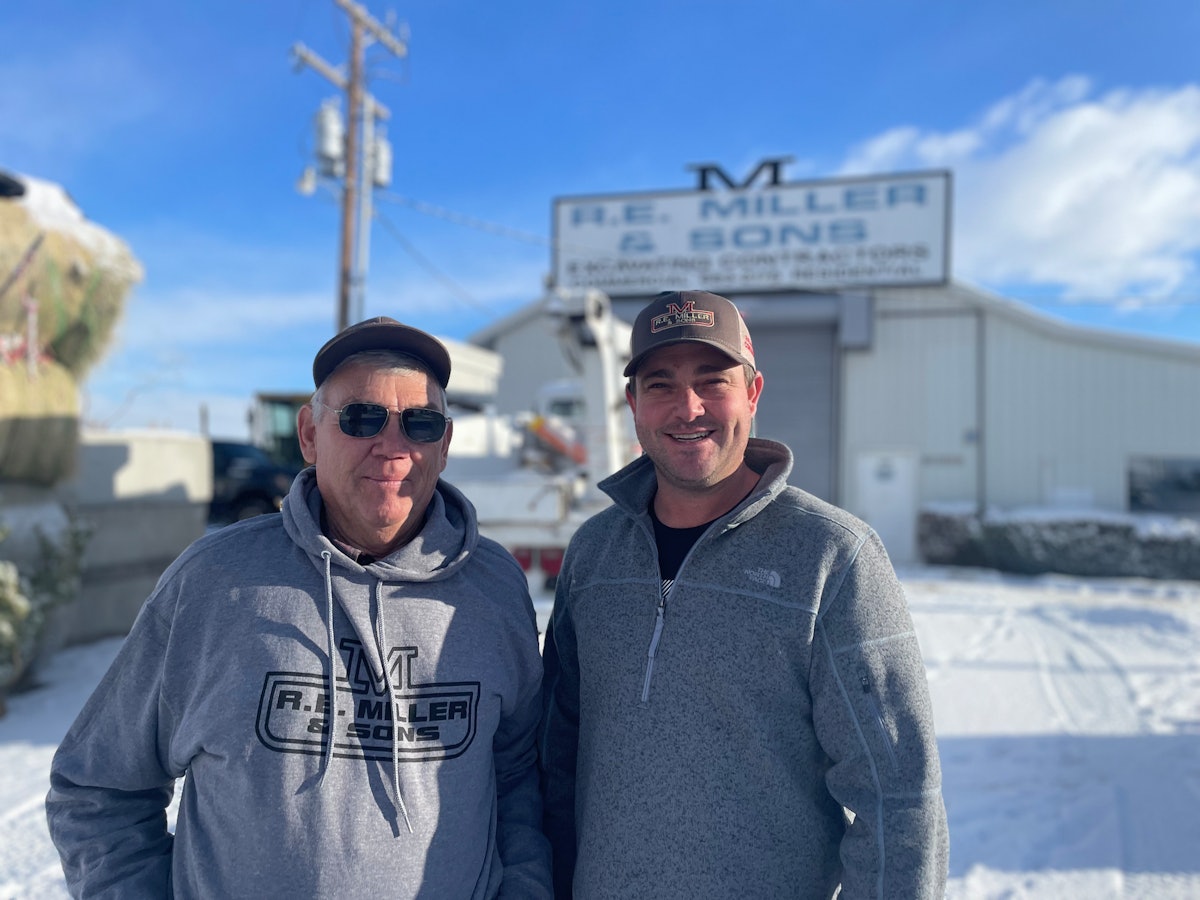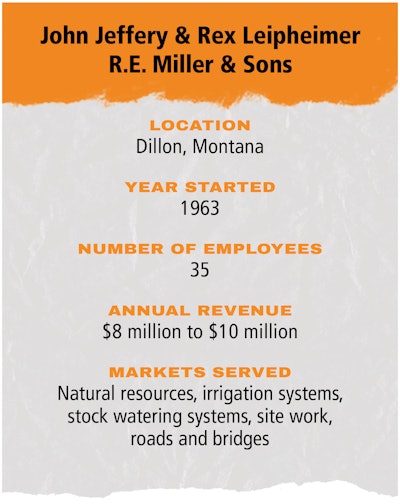 When the economy has other contractors running scared, John Jeffery makes big moves.
In 2008, at the peak of the Great Recession, John quit the contractor he was working for, bought a couple of belly dumps and started his own trucking company. Once he added paving and excavation into the fold, his fleet, team and business expanded rapidly.
But after more than 10 years, John was ready for his next conquest. And an out-of-the-blue phone call from his insurance agent was just the lead he was looking for.
It was July 2020, the height of the pandemic, and Dillon, Montana-based R.E. Miller & Sons was looking to sell. So, John and his business partner Rex Leipheimer took another leap and bought the company outright from second-generation owner Tom Miller, who was retiring.
"It was the right time in my opinion, and the wrong time for a lot of people," says John. "But there was a lot of opportunity. It's a great business. Even with the downturn of the economy, it didn't really affect us because the market and construction have been strong."
The $8 million to $10 million business with 35 employees has been a staple in the area since 1963, earning a reputation for its strong relationships and quality work on natural resource management, irrigation, site work, and road and bridge projects. 
"They are incredibly honest; their work is top quality, and if there are any questions you may have on something, they follow up," says Jake Jenkins, asset manager at Hairpin Ranch. "They go above and beyond on everything. You always get more than what you expect."
And because R.E. Miller & Sons offered complementary services to John's other business, he could now provide end-to-end solutions for clients in the Greater Butte area. 
In the two years since the acquisition, John has transformed the already-successful business through investment in employees and the implementation of office and field technology, a move that has made the company more productive and reinvigorated the team.
"We've got the cream of the crop with this company," says John. "The expertise and background experience of our team has enabled us to perform a diverse set of work. And now, with these new tools, they're looking at it with a fresh set of eyes and better ways to utilize the tools."
But beyond acquiring a business, John also gained a friend. Tom still comes in from time to time to help and make sure things are "up to his standards." His office is upstairs, right where he left it.
"I care; I want to see these guys succeed. I enjoy coming in and doing things. It's fun for as long as they'll have me," says Tom.
For these reasons, R.E. Miller & Sons is one of Equipment World's 2023 Contractor of the Year finalists.
A Solid Foundation for Growth
Jeffery gives the credit for their success to the strong foundation built by the Miller family and a stable group of dedicated employees – a rare commodity that's harder to come by than yellow iron these days.
"I've never had trouble finding the equipment," says John. "It's just trying to staff the crews and put the right people in the right positions, and most of that hard work was done here. It's like a family. There's great camaraderie, good morale, and all that is because of Tom."
One way the company has managed to retain so many employees is through competitive wages adjusted for inflation and its longevity program. After five years, employees are eligible for a bonus based on their tenure and performance.
"We have to have employees, so being competitive is very important to me," says John. "We want to keep our arms around good, competent, quality help. Building a workforce that I would send to your project, regardless of the scale or dollar amount – people I can trust to do good work – is my number one driver."
Having experienced a good mentor early in his career, John has become one himself. When Nate Helle, an employee at R.E. Miller & Sons, expressed interest in technology, John – who describes himself as a dealer of trust and opportunity – gave him the ball and let him run with it.  
"If somebody shows an interest in something, I'm all for it – classes, training, whatever we need. We pull out all the stops because we want to be good at it, and that's the kind of attitude around here. It makes it easy for me because the team wants to learn and be more capable."
Leading with Technology
If people are John's first priority, technology is his second. Within weeks of acquiring R.E. Miller, he added Trimble Business Center and machine control to the company's toolbox, software he already used at his paving and excavation business in Butte.
Now, with three dozers, a motor grader and an excavator equipped with machine control, efficiency has skyrocketed, and employees are no longer tied up shooting grade and pounding stakes. 
"As long as we can keep everything working as it should, we can take a young, inexperienced operator and get a high-quality finished product," he says. "We can only pass along so many inflationary cost increases, but we can operate more efficiently using technologies that are available. There are just more things at our disposal now that we can implement and take advantage of."
This has provided employees with more diverse experiences and set the company apart from the competition in the region. "We're quite aways out in front of anybody else in this area because it's just never been a real necessity, but until you really see it, you don't understand how important it is," says John.
Other recent technologies the company has adopted include estimating software and drone surveying and stockpile measurements.
"That was one of the highlights for me – being able to offer technology to the team – along with support to get them comfortable with it," says John. "They were craving the experience and wanted to utilize this stuff. Now, they have the opportunity to do so."
A Well-Maintained Fleet
Although John will use short-term rentals for a specific project or if a machine is down, he primarily buys new equipment. Between trucks, trailers, construction equipment and crushing equipment, R.E. Miller & Sons has around 280 pieces in its fleet, including over 50 pieces of Caterpillar construction equipment.
The benefits of running much of the same brand of equipment over the years came down to fast service from a trusted dealer and having a consistent set of parts in stock at the company's in-house shop. Two full-time technicians monitor the fleet and perform most large repairs, while the company's operators do daily preventative maintenance and basic fixes.
"We've always had the philosophy that we want our machines to perform and look good in the field," says longtime shop foreman Brian McParland. "If it needs an oil change, we'll send a lube truck to the site rather than going over on hours. Anytime a panel gets damaged, we replace it or paint it. Upper management gives me an open range to fix what needs to be fixed and keep it moving."
The pride R.E. Miller & Sons takes in its fleet hasn't gone unnoticed by Montana Fish, Wildlife & Parks' Jarrett Payne. "Their equipment is well maintained, and I can tell that. My office is next door. I can see their equipment all the time, and they clean it daily," Payne says. "For what I work on, it's important; we don't want invasive species showing up onsite. As long as they can get the parts in, given the supply crunch, they do a good job keeping things up and running."
The Next Chapter
Looking to the future, John hopes to combine the strengths of both his businesses to move into federal highway work. "I see this company expanding. We've been on a pretty good growth spurt the last couple of years, and there's a lot of opportunity and work ahead. Highway paving will just be the next step for us."
And while the business will continue to evolve under the new owner, John and Tom share the same philosophy: people come first. "The employees are our most valuable asset. It's easy for me to stay motivated because there are a lot of people depending on the decisions I'm making," says John. "The number one goal for me moving forward is to keep putting employees into roles where they feel a stronger connection to the company."
Equipment World's Contractor of the Year program recognizes contractors who display the highest standards of business acumen, equipment management expertise, attention to safety and community involvement. Each year, 12 finalists receive an expense-paid trip to Las Vegas to participate in roundtable discussions and an awards ceremony.
Nominations for the 2024 program will open this fall. For more information, visit https://www.equipmentworld.com/contractor-of-the-year.